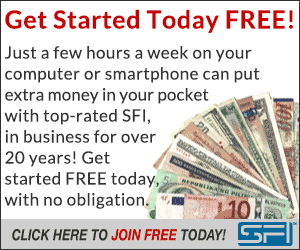 I have been in an online business for quite some time, and SFI is one of the
Best I have ever seen. Many online businesses come and go, but SFI has been
here for eighteen years and still keep going strong.
We have so many opportunities to earn income in so many income stream
Literally free. When we think about it SFI is completely Free, and how can
I turn down this kind of opportunity?. What we get over here for free will cost us
thousands of dollars if we were in another online business, the free training.
The lessons we get, the help from Forum as well as here ASK SC
Even the communication we have with our CEO Gery.
Do you know in some online businesses, you can't even get to the CEO
unless you are the platinum member which will cost you around $ 5000
Or more ?.
I experienced that before, they will flatly tell you that, don't even
Bother to communicate with us unless you are up high like us, then
They will turn around pressure you to invest that much.
We don't see that over here, Even if we have a standing order which is less
Than $ 60 in most cases if we have 125 Tcredits pack and S Builder, it is
almost free, by what I mean is,
1 it will be good enough to get us qualify for EA Status every month and
share all the benefits for that Rank.
at minimum we get 2 CSA's and 10 Tcredits free every month.
2 we will get certain number of PSA's every month to build our business.
From our S Builder Standing Order
3 with 125 Tcredits we have, we can participate Auction and if we do it
Wisely we can win valuable Items that worth hundreds of dollars with
Little cost, that right there will bringing our $ 60 investment to Free position.
We can even benefit more by playing games, uploading music and so much
more. Then if we go above EA
Status we can get at least 20 or more CSA's every month, so when I said SFI
is free, it is truly free. We put in more in our pocket or purse than we put out.
As we market TripleClicks products it has even more benefits and all these
reasons are the ones make me recognized that SFI is a real deal.